DRAKE
A pen portrait of "DRAKE" (Am/Can Ch Fossdyke Ocean Voyager CD):  Born 26 May 1997 – my first UK import, sire of several litters; many dogs of Rowansgaard lines are descended from him. The epitome of exquisite British type, a combination of elegance without loss of substance, classic one-piece head, good length of neck and shoulder layback, length of rib, correct tail-set, standard 24″ height, 70lbs, all of which, combined with flawless movement, earned him several group placements in conformation.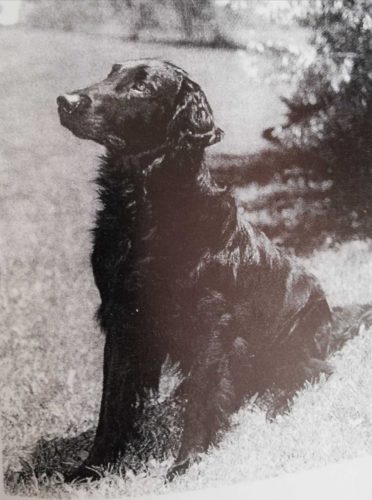 As well as being beautiful, he was also great fun, and kept me on my toes – an unforgettable and engaging personality, bright, affectionate, intelligent, endearingly inquisitive, and the dog love of my life (though saying that does not seem quite fair to my other dogs, past and present – every one of them dear to me and special in their own unique way).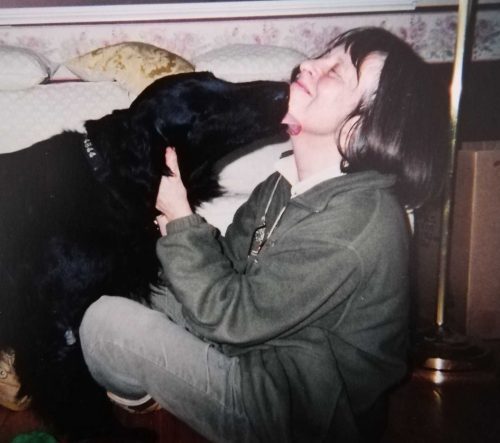 It was love and bonding at first sight – after 3 tantalizing hours going through the preliminary formalities involved in airport pick-up – paying import duty, taxes, vet check etc, all unseen – duty vet emerging at intervals to beam "Lovely puppy!" – and returning to his domain where peals of laughter could be heard occasionally from the area where Drake was holding court. Finally delivered, the door of his crate was opened – and in response to his name he bundled straight out into my arms and smothered me with kisses. Pure joy!
MORNING WAKE UP CALL: Drake's day  began with his mandatory morning wake-up call: at first light, his method was first to test the deep throaty squeaker (reminiscent of a quacking duck) of his favourite toy, an enormous red and green turtle; then, carrying turtle, he would make a bee-line for the long mirror at the far end of the bedroom – which involved trekking directly across the bed – and across me.  Before the mirror he'd pause, drop turtle, give a long hard stare at mirror-dog, and quickly jab his chin to activate that fulsome duck-like quack; he would then put his head on one side and with no answering call from mirror-dog, and after checking behind the mirror, he would pick up turtle triumphantly, and strut back to his place the way he'd come, making sure I felt the whole weight of his stride.. Process repeated after a 5 minute respite.. Lie-ins only happened on dark cloudy mornings… and if I failed to get going after his second call, perhaps burying my head under a pillow, he would burrow under it forcefully to deliver the expert unignorable facewash for which Flatcoats are famed!   Crating was no solution for two reasons:
1. Drake never slept on my bed though he was free to do so – but at night if I whispered his name he would invariably come to my side and lay his head on my shoulder momentarily and reassuringly, and I welcomed that… But even without that consideration, a crate would not have worked….
because 2. Drake was HOUDINI REINCARNATED:  crate, fridge, cupboard doors, even the locked sliding door from basement to patio fell easily to his know-how. When working towards his championship in the states he let himself out of various different types of crate no less than five times in a single morning while his handler was occupied with a springer  specialty – loud speaker announcer regularly beseeching Mr Handler to collect  Black Dog who is AGAIN searching for him!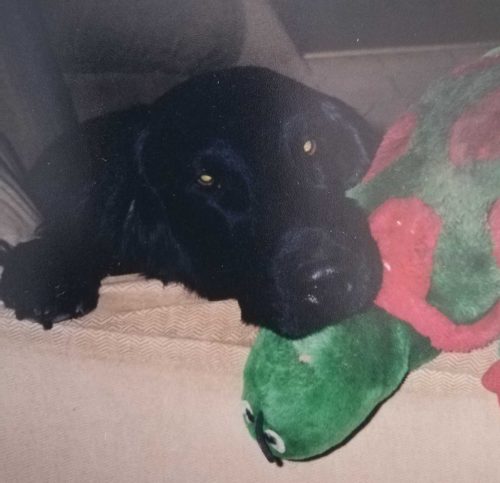 DOMINOS IN THE RING: (my most embarrassing moment with Drake).  Having completed his Canadian CD, I thought to kill two birds with one stone, and made obedience entries alongside conformation at a big four-day show in the states. Crating was mandatory, the morning was long, Drake was bored – but as we entered the Obedience hall, he perked up…I followed his gaze – he was looking with rather too much interest at a woman holding a dumbbell on her shoulder: possibilities here?… Inexplicably I felt a slight sense of unease, pulled him to attention, and we entered the ring. All went well, until the 'heel-free' on the long end of the ring, when suddenly the dumbbell thrown for a competitor in the adjacent CDX ring went hurtling over a jump just the other side of the fence. In a flash, Drake was after it, clearing intervening fence and jump, to retrieve the dumbbell from under the nose of its intended recipient, returning by the same route to present me with his ill-gotten gain… "NO corrections in the ring" the judge said sternly as we made our ignominious exit… Needless to say, before returning the next day for our second attempt we had a concentrated attention session in the car park – but alas! – to no avail: that day was even worse – same scenario, deja vu, only as he made for the fence for another gratuitous retrieve, I yelled "Drake!  NOoo .."    At which… he put on all the brakes, sending him in a half-sit barreling into the fence with all four feet….. at which – ALL fencing to BOTH rings went down noisily, in a slow-motion Domino effect in front of a large audience…
Later we started training for CDX : my experienced obedience friend tried endlessly every trick in the book for months for that peskey "Down on Recall" (everything else was test-ready). Nothing worked – Drake evidently could not see the logic in it – I called him. He came. Full stop.  Then on Christmas Eve, while we waited for the tea kettle to boil, Dorothy thought we'd give it another try. Drake's Christmas gift to us was THREE perfect Downs on Recall in succession, finishing off with an eloquent sigh as if to say "satisfied?"   A celebratory tea and cake followed, but there is no CDX title after Drake's name – because after that day he never did another one!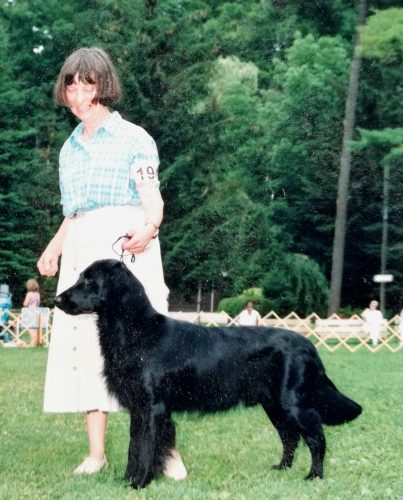 SUPERBOWL:  During those regular training sessions in Dorothy's basement, Drake, a typically observant representative of the breed, became fascinated by a beautiful high-glazed pottery bowl with fluted sides and streaks of darker green breaking into a deep sea-blue background – in which all sorts of wonderful pictures can be imagined.  Before each session he would go to it and gaze into its intriging depths… after some weeks of increasing intensity Dorothy moved the bowl upstairs, fearing for its life.  Missing it immediately on next arrival, Drake hunted through the house – finally spotting it on top of a cupboard. At which he gave a visible sigh of satisfaction, and went back to work.
Amused by this, Dorothy started a game of Hunt the Bowl, placing it in a different spot for every visit – and ever after Drake's agenda was – go round  house – find  bowl – settle to work.  There came a heart-breaking day when his brief terminal illness brought training to a halt…  Dorothy presented the bowl to "Prince among Dogs" as she called him, to bring home…It is in front of me as I write: I am trying to imagine what he found in its unfathomable depths… Perhaps he discerned his own bright eyes?  I like to think that somehow the eyes of my beloved Drake are looking out at me now……